Charles-Antoines Coypel
Allegory of Spring or Scent | Allégorie du Printemps ou de l'Odorat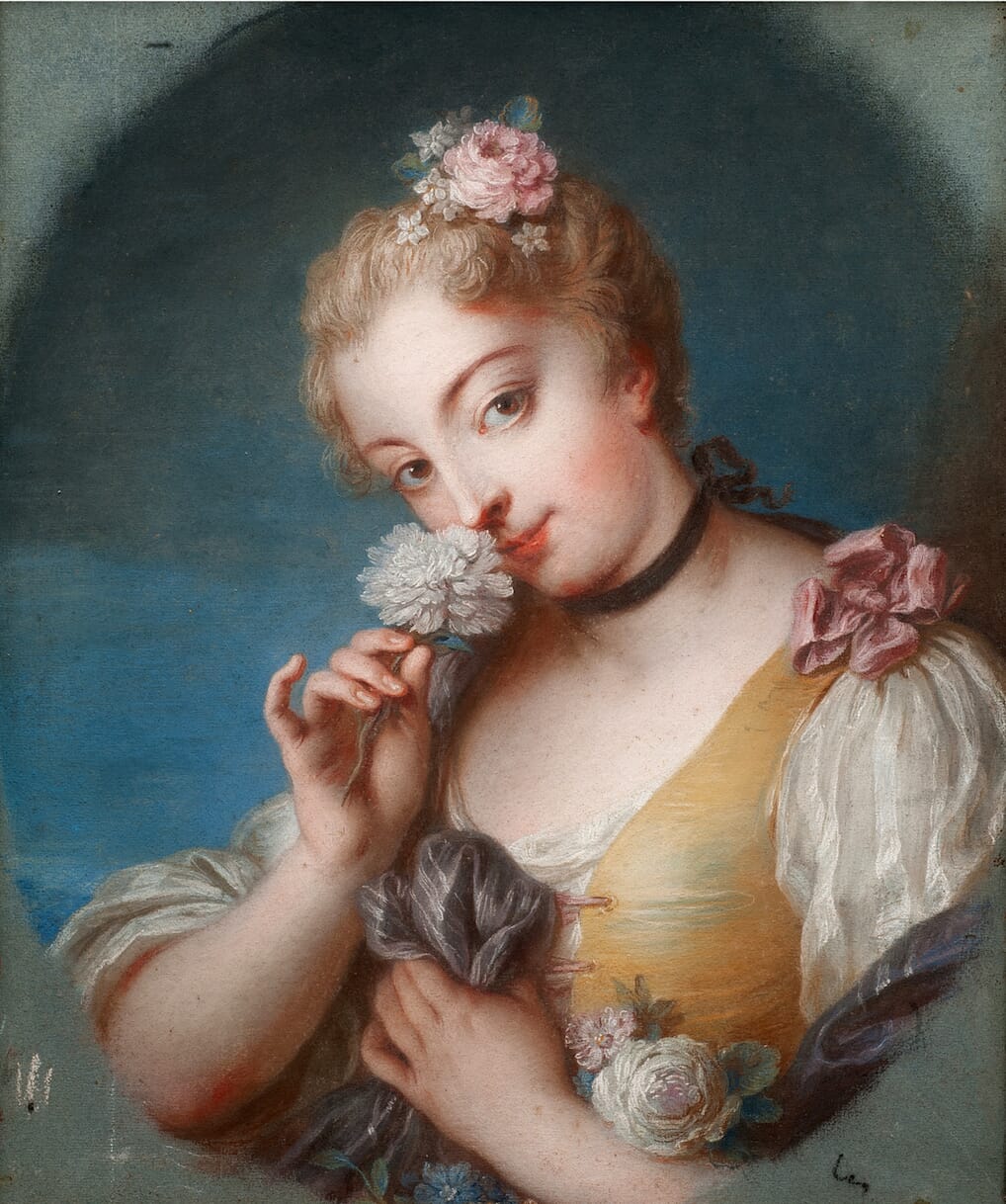 Pastel on blue paper, oval
520 x 435 cm (20 1/2 x 17 1/8 in.)
Provenance
Possibly in the sale of 25 November 1782, Paris, lot 211, bought by François Langlier; Count de La Rivière collection, according to an armoured label on the back of the mount numbered 107 (likely François Charles Alexandre de La Rivière 1739-1794); private collection, France.
"If we often omit to mention him among the main pastellists of the 18th century, it is because the trace of many of his pastels has been lost," [1] wrote Paul Ratouis de Limay in 1946 about Charles Coypel. Since then, regular reappearance of his pastels, some very ambitious, has reinforced the opinion of the art historian specialising in French pastels. Many portraits, but also allegorical, mythological and historical scenes, as well as landscapes, demonstrate Charles Coypel's predilection for this brilliant technique, more rapid than oil and more pictorial than trois crayons.Initiated to pastel by his father, Charles Coypel is likely to have perfected his skills under the influence of his friend Rosalba Carriera in Paris in 1720-21. A Pierre Crozat's letter tells us about the admiration expressed by the artist in front of her Girl in Half-Length Clutching a Dove to her Chest which the Venetian painter sent to the count of Morville in the beginning of 1728. A copy of this work is listed in Charles Coypel's posthumous inventory [2]. Pastel technique allows Charles Coypel to increase the precision of his draughtsmanship through the subtlety of colours and the softness of texture that characterise his oil painting.
This beautiful unpublished Allegory of Spring or Scent comes in addition to the increasing list of the artist's works executed in this technique. The attribution presents no problem: the regular oval of the face formed by the ample and symmetrical curves of the eyebrows and lips, perfectly almond-shaped eyes, and the direct look are all characteristic of Coypel's style. However, the identification of the subject and the study of the provenance raise some questions which for the moment can only be answered incompletely. The same composition, albeit with minor differences, can be found in a small oval drawing, heightened with pastel and signed by Coypel and appeared on sale as Spring with its pendant Winter (Fig. 1 and 2) [3], which proves that Coypel envisaged it as the allegory of one of the seasons. The repeated use of Winter in a series of the Four Seasons engraved by Simon-François Ravenet after Coyel brings further confirmation of it (Fig. 3-6).
Moreover, the posthumous sale of the brother of the artist Philippe Coypel listed "four paintings of great merit: they represent the four seasons. Winter: a woman holding a muff; Spring: a woman coifed with flowers; Summer: a woman bathing & Autumn, two children lean forward reaching out for grapes. These four pieces painted by the same hand are of a very agreeable composition, and of a colour as vigorous as oil." The catalogue of the sale states that these compositions measure 23 by 18 in., which is approximately 62 x 48 cm.
The pastels of Summer and Winter may have reappeared on sale in Paris on 6 April 1881 (Jules Caron's posthumous sale), but in the absence of dimensions we can not say with certainty if these are the same works. Autumn also seems to have reappeared on the market (Fig. 7), despite the dimensions (54.8 x 46.5 cm) that are slightly lower than those given in inches. [4]
The existence of the little drawing Spring and its pendant Winter undoubtedly connects our pastel to both Ravenet's and Philippe Coypel's series. Yet our pastel does not really correspond to either of them. In the engraved series, the young female figure holds a portrait and not a flower, whereas none of the works in Philippe Coypel's sale is described as oval. It is therefore more likely that the artist repeated the composition of Spring willing to give it a different meaning.
In this regard, it is interesting to mention a work appeared on sale on 25 November 1782 in Paris (lot 211) and bought by the dealer Jacques Langlier: "A young woman, in pastel, representing the Scent; its shape is oval." Its dimensions are 20 inches in height and 15 inches in width, that is, 54.14 x 40.60 cm, therefore it measures approximately the same as our pastel. The young woman smelling a white carnation could quite correspond to the subject, especially because this flower with an insistent scent was frequently used in the allegories of scent.
As far as provenance is concerned, a 19th-century label proves that this pastel belonged to the collection of the La Rivière family, whose fiefdom became a county in 1766 and whose title was reconfirmed in 1864 [5]. It is difficult to establish the date when the work entered this collection, but if we retain the identification of our pastel with that of the 1782 sale, it can only have occurred after 1782.
Whatever the destination and the real subject of this work, its dimensions, the freshness of its colours and excellent condition make of it, along with its charming image, an important addition to the corpus of pastels of the artist.
---
[1] Paul Ratouis de Limay, Le Pastel en France au XVIIIe siècle, Paris, Baudinière, 1946, p. 25.
[2] Thierry Lefrançois, Charles Coypel, 1694-1752, Paris, Arthéna, 1994, p. 220, p. 84.
[3] Christie's Paris, 10 April 2008, lot 74, Une femme en manteau noir avec un manchon : l'Hiver et Une femme avec une robe bleue et des fleurs dans les bras : le Printemps, pastel on paper, signed, 15.4 x 12 cm.
[4] Christie's London, 8 July 2008, lot 96; Christie's Paris, 19 March 2010, lot 125, 54.8 x 46.5 cm: a pastel representing two children stretching their arms above a balustrade to get hold of the grapes on a plate, signed and dated 1750.
[5] We are grateful to Stephan Perreau for providing the information that helped us to work on the present notice, including the information on the work and La Rivière collection.