Grégoire Huret
Project for a Frontispiece: a male figure leading a crowned female figure and her followers in an architectural composition | Projet de frontispice : un homme guidant une femme couronnée et ses suivantes à l'intérieur d'un palais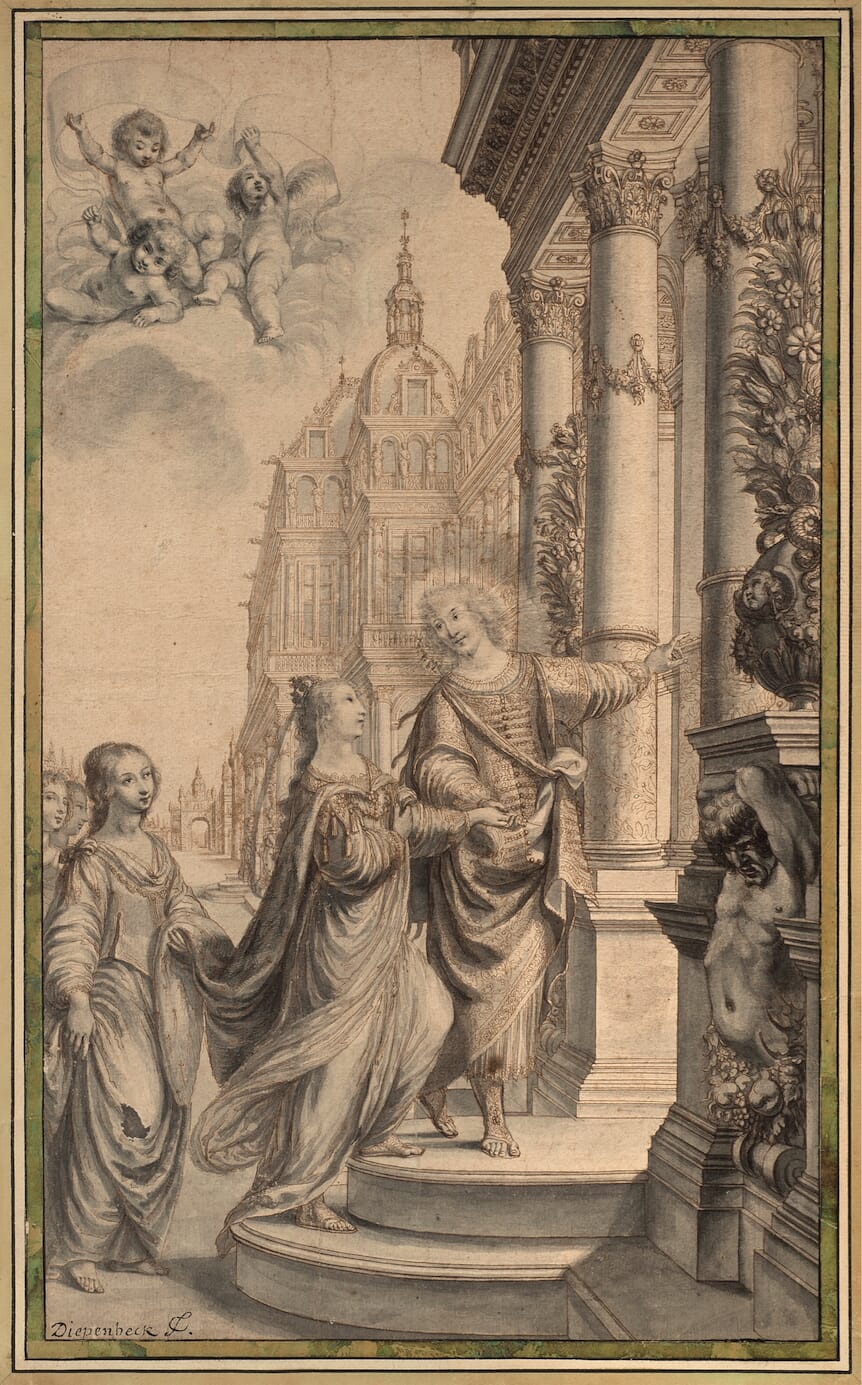 Pen and brown ink, grey wash
424 x 256 mm (16 3/4 x 10 1/8 in.)
The author of some five hundred plates, Grégoire Huret was one of the most prolific printmakers of his time. Unlike such painters and engravers as Claude Mellan and Abraham Bosse or such engravers and illustrators as Gilles Rousselet and François Chauveau, Huret dedicated himself only to inventive engraving and drawing.
He learned engraving in Lyon probably with Karl Audran. He seems to have "started to embrace this profession from an early age" according to Mariette who also wrote: "He particularly applied himself to draughtsmanship and later, he invented and executed parts of drawings that he himself engraved, which is an unusual quality in this profession. He also approached it as a painter rather than engraver; he had not neglected any aspect of painting: composition, chiaro-scuro, perspective, architecture were among those in which he much excelled, one can say that in all of them he went to great lengths."
He made his professional debut in Lyon in the 1620s illustrating frontispieces of books and dissertations and mainly worked for the Jesuits. Around 1633, the artist settled in Paris and due to his technical excellence and numerous connections he obtained prestigious commissions, such as the image of the frontispiece for Peintures parlantes où les passions sont représentées par tableaux, par charactères et par questions nouvelles et curieuses by father Jésus Ives (1640) and Reginae eloquentiae Palatium Sive exercitationes by father Gérard Pelletier (1641). In the 1650s, he dedicated himself almost exclusively to religious subjects, such as Modèle des Actions de la jeunesse Chrétienne tiré sur l'exemple du Verbe Incarné et de ses vrays imitateurs…(1653). In 1663, he was admitted as engraver to the Royal Academy of Painting and Sculpture and plunged into personal projects, such as Le Théâtre de la passion executed in 1664.
Huret was an extremely prolific draughtsman, which explains the amount of some fifty existing drawings by his hand. This is a rather significant number in terms of preservation, yet it is certainly but a small part of his drawn oeuvre. In this regard, consulting 18th-century sales is highly informative: several of them contain impressive amounts of drawings by the artist. Let us list them here: Nason sale of 1762 including 58 drawings by Grégoire Huret; an anonymous sale of 7 January 1767 offering "Twenty cardboard sheets with different studies of Hands and Feet, by Gr. Huret"; Claude-Philippe Cayeux sale from 11 to 23 December 1769 offering "Seventy-five Drawings, subjects & portraits, some in pen, others in black chalk by Grégoire Huret", finally, Gabriel Huquier sale on 1 July 1771 listing "Fourteen cartoons filled with some finest studies by Gregoire Huret" which were acquired by a Clérisseau, who may have been the artist of architectural drawings.
There are 32 drawings for the Théâtre de la Passion at the National library of Spain, Madrid, who may be those on sale at Joullain between 26 May and 23 June 1779: "Thirty-two, various devotional subjects in black chalk & graphite". About ten are at the French National Library, one at the Louvre, and one more at the New York Metropolitan Museum. There are also several known drawings in private collections. All the drawings that have survived are in black chalk or red chalk and their style, precious and precise at the same time, can somewhat be compared to the drawings of the young Laurent de La Hyre.  However, a note to the Cayeux sale says that amid 75 drawings by Huret, some are in pen and others in black chalk, which proves that pen drawing was well familiar to the artist.
The present large-size drawing with a high degree of finish is most certainly a presentation piece for the frontispiece of a book. Precise draughtsmanship of Huret allows him to make the figures evolve in rather complex compositions where architecture is given prominent place. Demonstrating the artist's great expertise and pursuant to the theories exposed in his treatise Optique de Portraiture et Peinture, his architectural structures are rigorously precise, lavishly decorated and presented in perfect perspective. The structures represented in the present drawing have the same characteristics as those that decorate his frontispiece for Peintures morales of Pierre Le Moyne, 1640: the vanishing point has been shifted towards the edge of the sheet, the construction stretches from the foreground – where its height equals that of the sheet - to the farthest background layer, with arches, pilasters and decorations repeated identically and indefinitely, until it reaches a monument, an arch or a construction, limiting the depth of the field of vision. The preciosity of his technique, which combines here strokes in pen and brown ink with delicately applied grey wash, allows the artist to convey a glowing effect of the clothes and the impression of transparency of some fabrics and to highlight the female figure's curls of hair under her veil. The facial features are as precious as the body language is delicate; particularly, the putti and female figures with their almond-shaped eyes and small pinched mouths are characteristic of his work as a draughtsman and engraver. Mariette can once more be cited on this occasion: he wrote that Huret had a habit of "rendering gracious expressions and imbuing his images in gentleness and modesty that is so suitable to foster piety, but it finally degenerated in a vicious habit that sometimes made him repeat the same expressions without being able to vary them in a slightest way". Although this judgement is somewhat severe, it fits in with the general criticism of Huret's excessive desire of pleasing his sponsors.
Among known Grégoire Huret's drawings, the present project is the only one having such a high degree of finish and showing such an important decorative ambition of the artist. Thus, it provides another perspective to his talent and proves his extreme sophistication in presentation pieces.