Jean-Pierre Saint-Ours
Portrait of the Banker Jacques Mallet full-length, holding his horse in front of Mont Blanc | Portrait en pied du banquier Jacques Mallet, tenant son cheval devant le Mont-Blanc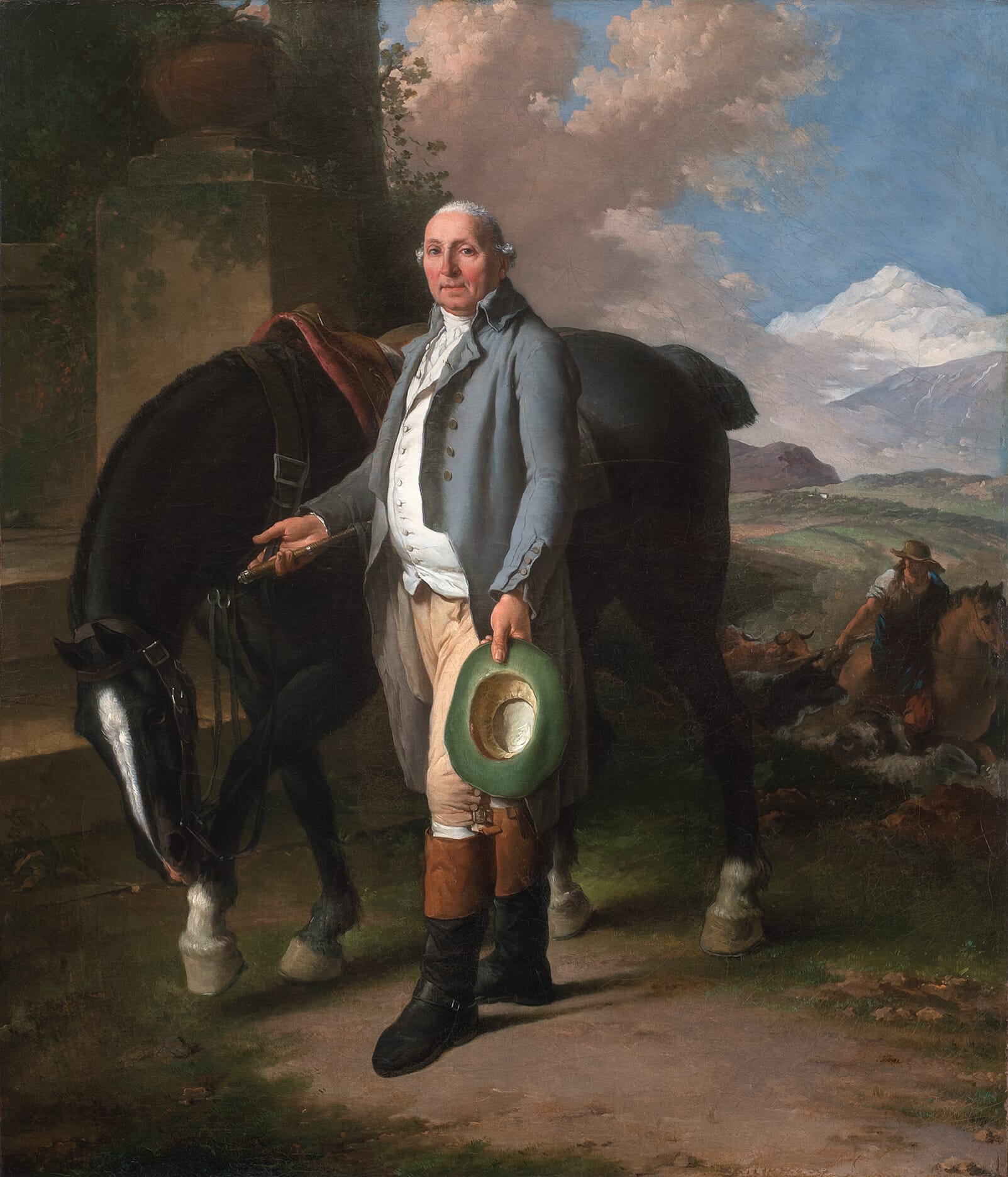 Oil on canvas
Signed Saint Ours lower right
96.5 x 82 cm (38 x 32 ¼ in.)
Provenance
Jacques Mallet (1724-1815), Geneva; by the descent to the present owner
Bibliography
Albert Choisy, Notice généalogique et historique sur la famille Mallet de Genève originaire de Rouen,
Exhibited
Geneva, Musée d'art et d'histoire, Jean-Pierre Saint-Ours : un peintre genevois dans l'Europe des Lumières, 15 September 2015 – 28 February 2016, exhibition without catalogue.
The painter Jean-Pierre Saint-Ours and his sitter, the banker Jacques Mallet, were both from Protestant families, who among a great number of other families, found shelter in Calvin's Geneva in the 16th century. Benefiting form this influx of new families favourable to the Reformation, Calvin managed to oust his opponents from the municipal council and thus continued to successfully promote his ideas. In 1558, Jacques Mallet, an ancestor of the sitter of the present painting, established in Geneva his business of textile trading and began to develop banking activities. Nearly two centuries later, Isaac Mallet, the father of the sitter, founded his own house for discounting and collecting bills of exchange and advance of funds thus creating what would later become one of the most important French banks. He conducted his business with discernment and prudence, lending himself to speculations on the most rare occasions.
Jacques Mallet, portrayed here, is Isaac's elder son. When his turn came, he assumed the control of the bank, which had to change its name each time there was a take-over as, following the Revocation of the Edict of Nantes, French Protestants were deprived of their civil rights and could not bequeath and inherit property. On the eve of the French Revolution, Mallet Père, Fils et Cie was a major enterprise in Geneva that was favoured by the local clients and present through its correspondents in over 50 European cities. Jacques's sons Guillaume (1747-1826) and Isaac Jean-Jacques (1763-1815) settled in Paris. At the beginning of the Revolution, they supported the national currency by converting 50 kg of massive silver into assignations, but they were nonetheless arrested during The Terror. Upon their liberation, they founded a new society and bought national property, which allowed them to stay aloft during the Revolution. The bank lived through two more centuries and several wars before merging with Neuflize-Schlumberger in 1966.
Born in Paris, Jacques Mallet installed the main part of his business activities there. It is also in Paris that he married Louise Madeleine Bresson, of Genevan origin. However, his ties with Geneva remained very close, as much as the dispositions of the French law were not favourable to Protestants. The couple bought, as many prominent families from Geneva, a nice estate in Vandœuvres, near Chougny, with the spectacular view on Mont Blanc that is used as the background to this portrait.
Depicted in riding attire and middle-aged, Jacques Mallet may be preparing to go around his estate on a tour of inspection. The portrait displays elegant simplicity and laid-back attitude: the horse's head is lowered peacefully and the sitter has a calm and quiet look on his face. Behind him, the peasant is leading his herd home, which emphasises the true value of labour, consistent with Protestant ethic. However, the conventional rules of aristocratic portrait painting have been respected: the sitter is shown full-length, standing beside his horse; his right arm extended outward and his left arm slightly bent inward are reminiscent of the poses adopted for the official portraits of sovereigns; a square column serving as a pedestal to support a vase evokes force and solidity. It is equally evident that that the reference to the real property is a way of asserting an important social position.
It is interesting to note that this important man did not call upon fashionable Parisian painters for his portrait, but asked Saint-Ours, a Protestant from Geneva who had just returned from Italy. Trained in Paris under Joseph-Marie Vien, a friend of François-André Vincent, Saint-Ours had spent 12 years in Rome, where he could have met such important representatives of classicism as Batoni, Mengs and Tischbein. Upon his return to Switzerland in 1792, he rapidly earned the esteem of the high society of Geneva, producing numerous portraits of its representatives. Portrait is the genre in which he excelled although due to his academic training, he was much more attracted to history painting on erudite subjects drawn from antiquity. A major figure of Swiss painting, this artist has been recently awarded an exhibition, although a detailed catalogue of his oeuvre is still missing.
The detail of the shepherd leading the herd of cattle home is rather interesting. This reference to the rural world, which was predominant in Europe in the late 18th century, is reminiscent of the painting The Ploughing Lesson by Vincent. In reference to this work, the handbook of the Salon reminded that "Agriculture is the basis of prosperity of States." We can recall that Vincent was also a Protestant and that Boyer-Fonfrède, a patron from Toulouse who commissioned the painting, belonged to the milieu that was sympathetic to physiocratic ideas and had in common with Protestantism an ideal of liberalism and free circulation.